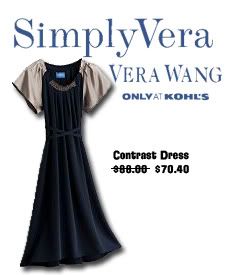 Everyone, including myself, was extremely stoked for the Simply Vera collection to come to Kohl's, but not a month after its release everything is on sale at the Kohl's webstore. This is a great because it means this fab 'Contrast Dress' is $18 cheaper, and all the other swoon-worthy products follow suit. The question is why has the line gone on sale so quickly?
Since I am a fairly critical consumer, and am taking both sociology and philosophy this semester in school, I have come up with an answer (I'm not sure the schooling really helped but…). People who shop at Kohl's aren't willing to pay almost 90 bucks for a dress, and the people who are willing to shell out for clothes are not shopping at Kohl's.
Was this problem really unforeseen? Did the Kohl's merchandising director not realize most of their clothes cost no more than $50. Sure its Vera Wang, and yes, to me Vera Wang is a force to be reckoned with, but I spend most of my free time thinking about clothes and fashion. Do the less fashion savvy Americans really care who Vera Wang is? Maybe all the mark downs answers that question, but who knows!