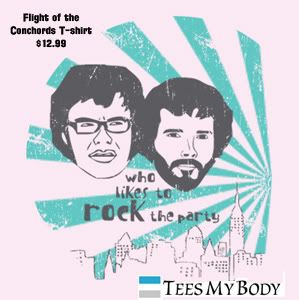 Like most of the youth of America, I am a giant t-shirt fiend. I'm sure this has been proven by multiple other posts. There happens to be a great blog that is completely dedicated to finding the coolest, most interesting tees around. The blog is called I Love Your T-Shirt, and they found this beauty.
Yup, its a vintage looking Flight of the Conchords Tee from a great company called Tees My Body. If you haven't heard of Flight of the Conchords, you've have probably been living under a rock without a television that has HBO, so here's the skinny on them: Flight of the Conchords is made up of two guys, Bret McKenzie and Jermaine Clement, and they're "New Zealand's fourth most popular parody duo", their words not ours. Other than that they created and starred in one of HBO's new hit series this summer aptly name Flight of the Conchords. On a side note, they stole my heart, and if anyone knows when they're going to start filming again I might just need to drop by the set to get my heart back. I'm in NYC everyday anyway, don't judge me!
Back to the shirt. I'm sure I could wax poetic about their cute heads floating over the city, but the description on Tees My Body is perfect:
"Who likes to rock the party? The Flight of the Conchords' Bret McKenzie and Jermaine Clement like to rock the party! Now you can too with this t-shirt – heck, you could even be a part-time model. Think, think about it. Just so you know, this shirt was made by little slave kids with diseases from monkeys."
Okay, maybe you have to be obsessed with Flight of the Conchords to understand, but I promise it totally makes since.