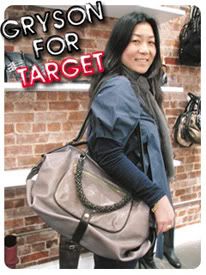 Target is on a never ending quest to find great designers to collaborate with. They've taken the term capsule collection and run with it. After having quite a few successful collaborations with accessories designers like Devi Kroell, Hollywould, Dominique Cohen, and soon Loeffler Randal, they have decided to launch a line with Joy Gryson.
The accessories line will launch sometime in 2008, but according to Fashion Week Daily, they are previewing the line to long lead press (a.k.a. magazines) on December 12th.
Joy Gryson started her line Gryson in 2006 after being the director of design for the Marc Jacobs and Marc by Marc Jacobs handbag and accessories lines. If you know anything about the Marc Jacobs & Marc by Marc handbags, you'd know they're amazing, and the bags I've seen of hers are very reminiscent of those designs. The 'Layla' bag from the fall 2007 season is absolutely radiant. Giant, chocolate brown, Italian calf-skin leather totes tend to make me swoon.
For more information on Gryson visit gryson.com.
[via Fashion Week Daily]
Image courtesy of chinese.chosun.com.