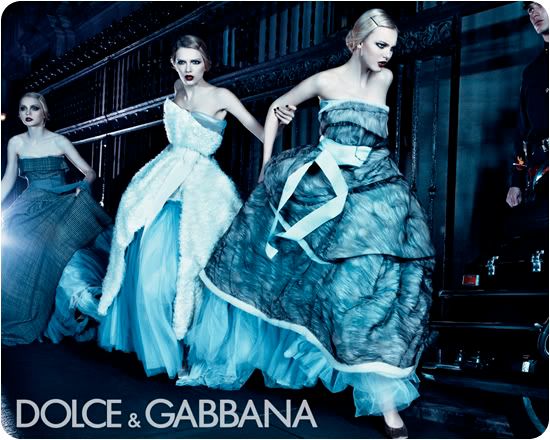 Click to Enlarge.
"Spotted. Robomodels Stam, Trentini, & Lily D parading up and down the Upper East Side in random Dolce & Gabbana wears, while photog SK snaps away. Where's little Gem, ladies?" If anyone asks, that's what the Dolce & Gabbana ad feels like. They're all about the android socialites who prance around Manhattan and feign indifference or anger when the paps are intent on getting their picture. The thing the paparazzi and the socialites don't realize, no one truly cares! But what about the ads?
The clothes are gorgeous and the Steve Klein's photography is wonderful as usual. I like how magical the city looks at night, though I'm not sure it was actually photographed at night— it could just be the wonders of photo retouching. I also like how spectral the models look, as if they're just floating through their lives with no ambition or raison d'être.
I'm smitten with the wintery ball gowns in the photo above, they make me wish I had a big party to attend on New Years Eve. Also, I'm not a big tweed fan, but the tweed suit, oxford pumps, and newsboy cap outfit Lily D has on looks very chic— however, I think it only looks great on her because she's a tall skinny model. I also happen to love the plaid, slightly cropped skinnies and plaid shirt combo. The clashing plaids are a bit off-putting, but I like things that are a tad kooky.
On the other hand, I'm not quite sure if I like the Stam, Lily D, Caroline Trentini match-up more than I like the Stam, Lily D, Gemma grouping in the Spring Summer '08 ads.
What do you think about the new Dolce & Gabbana ads and the Gemma/Caroline switch-a-roo?
View all the photographs after the jump
Photo Credit: The Fashion Spot